INTRODUCTION TO METAL SCULPTURE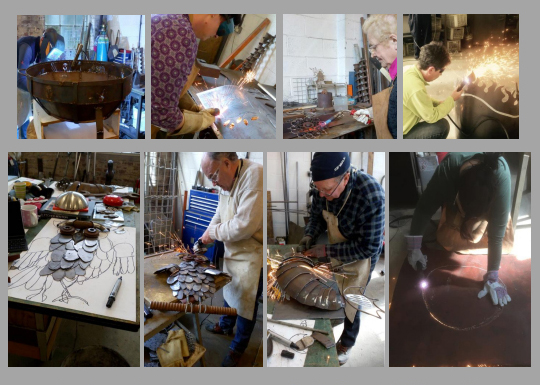 2021 COURSE DATES
APRIL UNAVAILABLE
MAY UNAVAILABLE
JUNE UNAVAILABLE
JULY 24.07.21 - 25.07.21
AUGUST 21.08.21 – 22.08.21
SEPTEMBER 25.09.21 - 26.09.21
OCTOBER UNAVAILABLE
These courses will be run from our new purpose built workshops in a former textile mill on the outskirts of Holmfirth. Course tutors David Mayne and Mick Kirkby Geddes are award winning sculptors each with 30 years experience of working with metal in a variety of different ways.
SPACES ARE LIMITED FOR THESE COURSES SO IT IS ADVISABLE TO REGISTER YOUR INTEREST AS SOON AS POSSIBLE.
A COUPLE OF COMMENTS FROM PREVIOUS STUDENTS
"Loved the course! Trying something completely different whilst meeting new people with fascinating stories to tell. Then there is the sculpture, David and Mick are so creative! They patiently listen to your ideas and then help you make them into reality, meaning you have your own piece of sculpture to take home with pride. You also get to play with power tools! I would recommend this to novices and experienced creatives alike"
"I arrived with trepidation and thoughts of being out of my comfort zone alongside skillful fellow students. I left feeling very proud that I had learnt new skills and had a vibrant and creative sculpture that was all my own work. But of course it was only possible because of your immense talent, ability to get the best out of me and to have fun over the two days."
Metal Sculpture – Introduction
2 day weekend course Price £295.00
MATERIALS AND EQUIPMENT ARE ALL PROVIDED
The course includes refreshments through-out the day. Please bring a packed lunch
David and Mick have vast experience of producing steel sculpture and this course will give an insight into how they create their unique work in this versatile material.
This is an introduction into making sculpture using various metal working techniques which includes:
Wire sculpture.
Sheet metal sculpture using pop rivets
Sculpting with steel using a MIG welder
Cutting with a plasma cutter
Safe use of tools and equipment.
Hammering, dishing and shaping metal
Different metals and surface treatments
Class times 9am – 4 pm
Location: Sculpture Lounge
Bank Lane
Holmbridge
Holmfirth
HD9 2NE
Please contact me to request a booking form